News & Views
Bootcamp Scholarships/Grants Seek to Improve Diversity
Scholarships and Grants for Women, BIPOC, and Other Underrepresented Groups in Tech
Tech's Current Landscape Has Failing Grade in Diversity
It is no secret that the tech industry is hot right now. The Bureau of Labor Statistics projects that employment in computer and information technology occupations is projected to grow 15% from 2021-2031, which is faster than the average for all occupations. This increase is expected to result in about 682,000 new jobs in these industries over the decade. Add to it the workers who will be needed to be replaced due to workers retiring or leaving the industry altogether, and it's projected to be an average of 418, 500 job openings each year, on average.*
Wages in the computer and information technology industry were higher than the median annual wage for all occupations. In May 2021, the median annual wage for this group was $97,430 compared to the median annual wage of $45,760 for all occupations.*
However, when you look around these industries, there is one area where they are failing. Women, Black people, Latinos, and other groups just aren't represented. The Bureau of Labor and Statistics indicates a large gap in gender and race in the computer and technology industries.** With this knowledge, it appears there are many groups who aren't included in this tech explosion. These statistics can only improve with organizations taking an interest in encouraging these groups to pursue the tech industry.
According to the BLS, 80% of web developers in the US are white compared to other races. Less than one percent of web developers are Black or African American, 20% are Hispanic, and 22 % are women. When you look at web and digital designers, 79% are white. Black people come in at 7.2% and Hispanics at 9%. Women are better represented at 44.5%. But when you look at network and computer systems administrators, white individuals make up the primary population with 75%. Black people and Hispanics both come in at 9% and 20% are women.**
DigitalCrafts was founded on the idea of no matter who you are or where you are, you can study coding, web development, UX design, or cybersecurity. Our bootcamps were developed to offer all students the opportunity to pursue a career path in tech. So how do we support prospective students (particularly students who haven't traditionally pursued tech)? With a multi-pronged approach to leveling the playing field and offering a challenging educational experience to anyone accepted into our programs.
Scholarships*** to Further Your Tech Education
DigitalCrafts is committed to improving the diversity in technology from a gender, race, and socioeconomic perspective. As such, we are proud to offer the following scholarships to qualified students. We established these scholarships to help level the playing field for our prospective students.
You Belong in Tech
Who is this tech scholarship for? Females, Black, Brown, LatinX, and Veterans
How much is the award? $250 is automatically awarded to students who qualify.
Fine Print: You can combine this scholarship with other grants and reduced tuition offers; however, you can't combine it with other scholarships.
Builder Scholarship
Who is this Scholarship for? Admitted students who complete the DigitalCrafts' Builder Scholarship application including sharing their inspiring lives, future goals, and their past achievements.
How much is the award? Students are selected by a committee and awarded $250.
Fine Print: You can combine this scholarship with grants and reduced tuition offers; however, you can't combine it with other scholarships.
With both scholarships, the award will be applied to the student's tuition. It can't be transferred or substituted, is not refundable, and cannot be converted to cash.
Learn more about the requirements for these tech scholarships on the DigitalCrafts website or in our Institutional Catalog.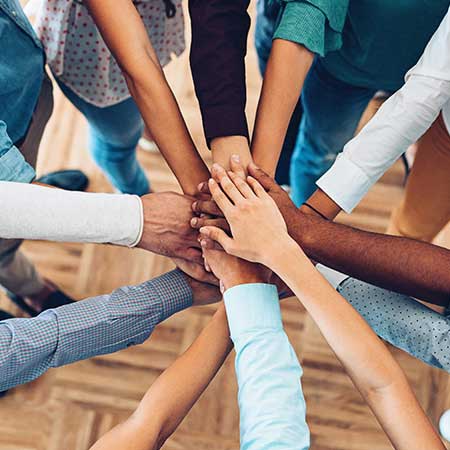 Grants and Incentives to Supplement Your Tech Education
DigitalCrafts believes that anyone who wants to learn coding, cybersecurity, or UX Design deserves a chance. We know that a scholarship may only take some students so far, and we created grants for prospective students including those who may already have been awarded a scholarship. Additionally, we provide another incentive for any student who is ready to jump-start their future tech career path.
Alumni Referral Grant
With the alumni referral grant, alumni can refer their friends and family to a DigitalCrafts bootcamp.
Who is it for? Any student who is referred through application by a DigitalCrafts alumni.
How much is the award? The award is $250 and applies directly to the student's tuition costs.
Fine Print: This grant can be combined with any other funding available through DigitalCrafts.
Educational Partner Grant
DigitalCrafts prides itself on developing relationships with tech organizations and agencies to further the future of tech. Our educational alliances allow us to offer employees of these agencies and members of the organizations a reduction in their tuition.
Who is it for? Employees of agencies and organizations who have a contractual arrangement with DigitalCrafts.
How much is the award? The amount varies by agreement.
Fine Print: This grant cannot be combined with any other grants, scholarships or other tuition reduction offers.
Decision-maker Incentive
Sometimes making a quick decision pays off. DigitalCrafts wants to reward students for moving quickly toward their career path in tech.
Who is it for? Students who submit their initial deposit and enroll in their bootcamp program within 5 days of receiving an acceptance letter.
How much is it? A $250 reduction in tuition.
Fine Print: This incentive can be combined with any scholarship or the alumni grant. You can receive this incentive, a scholarship, and the alumni grant as well.
For more information on grants and the decision-maker incentive, visit the DigitalCrafts website.
Why Diversity in Coding, Cybersecurity, and UX Design Matters
DigitalCrafts believes that there is room at the table for anyone who wants to code, defend systems in cybersecurity, or create unique and engaging user experiences. When we leave out women, bipoc, or individuals who may be underrepresented in tech, we miss out on their talent, experiences, and unique perspectives. DigitalCrafts scholarship and grant offerings are a way for previously overlooked individuals to become a potential part of the tech industry boom. DigitalCrafts strives to bridge the gap between today's employers and tomorrow's talent.
In a perfect world, we will begin to see more women, people of color, and people from diverse backgrounds taking advantage of the bootcamp path to further their education and start on a career path sooner than later. It all starts with creating opportunities, but it also requires following through with a quality program.
The DigitalCrafts Difference
DigitalCrafts has worked hard to create an inclusive and diverse bootcamp community for its students. We provide our students with live, professional instruction both online and in-person. Students can benefit from a dedicated Slack channel designed to encourage collaboration, networking, academic, and career support. We offer optional electives at no additional cost to students designed to give them a better idea of what a future in tech might look like.
Our students will engage with their cohort in live online class sessions or in person at our Atlanta campus. We understand that not everyone can juggle a full-time bootcamp with work, so we offer part-time opportunities and support students who may need a private place to study with complimentary WeWork memberships if needed.
Additionally, we offer career services and support for students as they begin pursuing what may be a new career path. We give them feedback on their LinkedIn account, resumes, and portfolios. Students have full faculty and staff support when they present their Capstone projects with instructors from other programs attending and offering feedback.
Learn more about the DigitalCrafts experience or apply today.
DigitalCrafts cannot guarantee employment, salary, or career advancement. Not all programs are available to residents of all states. REQ1930208 5/2023