"It has truly been a life-changing experience, particularly during this transformative career journey. I can't express how grateful I am to have found such an amazing guiding force." - Cody S., Cybersecurity, 2023
"A very big reason I learned a lot was because of my teammates, the intensity of the bootcamp, and the fact that I could lean on them to ask questions, see their perspective, and advance my own skillset through my peers." - Rahmin S., Software Development, 2023
Tech Education Crafted by Industry Professionals
Bootcamps Designed for Your Schedule
DigitalCrafts designs bootcamps with your needs in mind. Whether you are ready to dive in full-time, prefer to study part-time, or on your own schedule, we offer bootcamp programs to answer that need. DigitalCrafts' bootcamps are designed to train you in the current tools, skills, and strategies utilized in today's marketplace.
Choose from two online bootcamp options: live instruction (full or part-time) or flex study on your schedule.
Interact with your instructor and classmates using a variety of online communication and video tools
Pursue a new career path in as little at 15 weeks for Flex, 17 weeks for full-time, or 26 weeks for part-time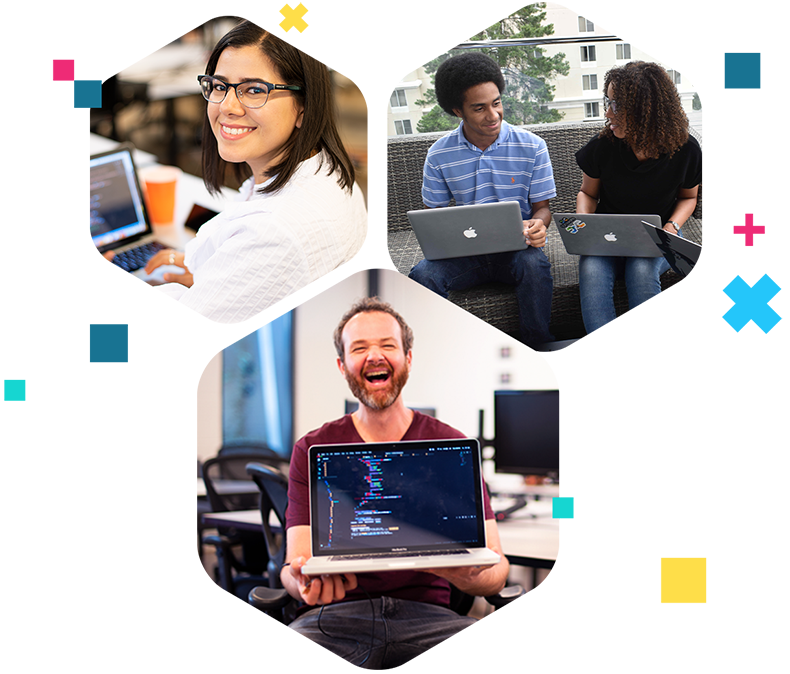 Select the Best Program
for Your Educational Goals
Software Development Certificates
Online programs to study full-stack software development including Javascript, React, SQL, HTML, CSS, and other skills and technologies to pursue a career path as a full-stack developer.
Programs Offered:
Software Development Certificate: Full Stack (Full-time)
Online, scheduled, live instruction
Software Development Certificate: Full Stack (Part-time)
Online, scheduled, live instruction
Software Development Certificate: Full Stack (Flex)
Online, Flexible Study, no set class times
View Bootcamp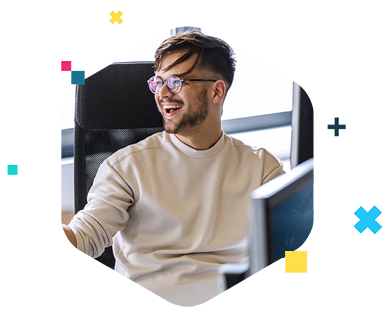 Cybersecurity Certificate (Flex)
Explore how to defend against cyber criminal activity in a variety of roles like security analyst, risk assessor, or security engineer. DigitalCrafts is a CompTIA Authorized Partner and this program is designed to help students prepare to take several CompTIA certification exams. Upon successful completion of the program, students can receive a voucher for the CompTIA exam of their choice.
Offered: Online, Flexible schedule
View Bootcamp
Need a place to Study?
Secure a Co-Working Space with WeWork
Attending an online class but don't have an ideal setup for learning at home? Students can optionally stream their online class from a local WeWork with an All Access Membership included at no additional cost.
Included with your tuition for online bootcamps only (approximately $1200 value)
Co-working space at over 500 locations nationwide
Includes access to common areas, hot desks, phone booths, and pantry
24/7 access (subject to availability and standard business hours)
Common Questions
DigitalCrafts is a technology bootcamp and training provider. DigitalCrafts bootcamps are amongst the best-reviewed in the country, and offer intensive live instruction educational experiences for full-time and part-time students across the country. DigitalCrafts enterprise solutions include custom training and onboarding programs, as well as software staffing services for companies of all sizes.
A successful entrepreneur once told our founders that "succeeding in business is simple. Do what you say you're going to do, and treat every customer like they're your first and last. If you say you're going to perform a service for somebody, do it well - most people won't."
We believe the above state of mind, a firm belief in honesty and transparency, and the hard work of our instructors and staff is what has set us apart.
In addition, our Flex courses are credit-bearing and DigitalCrafts also provides training for corporate clients through our educational alliance program.
We offer career services support and want to help our students find their 1st tech job, and every tech job after that.
Live instruction is scheduled and conducted in real time with your instructor. You and your cohort participate together in online or in-person instruction. You will complete assignments and some projects collaboratively and others independently. Your courses will be at scheduled times, and you will adhere to the course schedule and assignment deadlines as outlined by your instructor for the entire cohort.
Flex study provides students with one-on-one access to their instructor with feedback and mentoring as they access learning materials and complete labs and assignments each week. They will study on their own time and create their own schedule for assignment completion adhering to weekly deadlines. Optional weekly live sessions with your instructor, assignment feedback, and regular check-ins with advisors are designed to ensure the student is supported throughout their academic journey.
Our average class size is currently 10-15 students. Your cohort may have more or less, as there is some seasonality in enrollment, but we always maintain an efficient and effective classroom environment.
Yes! We have partnered with Ascent Funding and Climb Credit to provide affordable financing options for qualifying students. Reach out to learn more, you can give us a holler at hello@digitalcrafts.com or (833) 327-2387.
There are also plenty of options outside of our partnerships, such as WeFinance, Upstart, SoFi, or asking your employer to help fund your education. It never looks bad to ask for more training, and you might just be surprised by what you hear!
Part of our mission as a school is to make a career in software as accessible as possible to the underrepresented and the highly gifted.
As such, we're proud to award automatic partial scholarships for all underrepresented people in tech, including Black, Latinx, and Women students. We also offer The Builder Scholarship, awarded by committee to builders with especially compelling stories, achievements, and goals. More on tuition and scholarship awards.
Reach out anytime, our team is here to help. You can schedule a call, send us an email , or just give us a ring: (833) 327 - 2387. We look forward to meeting you.