Online Learning Experience
*Borrower must be a U.S. resident and at least 18 years of age. Rates will vary depending on financial standings and credit history.
Learn from Anywhere
The DigitalCrafts Class Experience - 100% Online
As of 2020, DigitalCrafts has moved all bootcamps to a fully remote, online learning experience to increase access to its programs for students across the U.S. You can expect a challenging, rewarding, and effective education in a virtual setting.
Connect with a community of peers from various backgrounds, hands-on collaboration, smaller class sizes, and the support you need to pursue new skills and a potential career path in tech—from anywhere.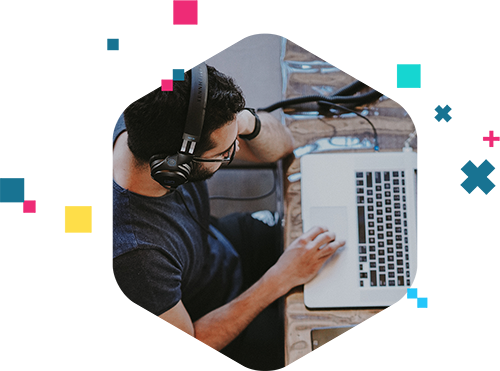 What Can You Expect in Class?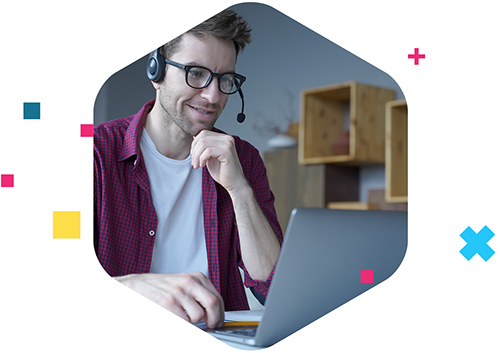 Live Instructor-Led Training
Classes are live streamed via Zoom.
Full-Time Programs:
Monday - Friday
10:00a - 5:00p (ET)
Part-Time Programs:
Tuesdays / Thursdays
6:30p - 9:30p (ET)

Saturday
10:00a - 2:00p (ET)
Daily Lectures: Each day, students can participate in everything from engaging discussions and lectures to demonstrations and practice.
Group Work: Structured peer learning and collaboration are essential components of our curriculum. Students will use collaboration and communications tools to work on group assignments and projects and participate in pair-programming exercises.
Projects and Lab Time: The best learning is done by doing and simulating real-world work activities. You can expect time to work on portfolio projects that utilize and simulate commonly used skills and tools.
Dedicated Staff Support
Each class is supported by DigitalCrafts staff dedicated to your educational success.
Lead Instructor: An experienced industry professional trained in each course's topics, provides the bulk of instruction and guidance throughout your class.
Teaching Assistant: A trained professional may be available to provide additional hands-on support and guidance with projects, exercises, and assignments. (Typically 1 teaching assistant per 8 students in a class).
Operations Coordinator: An operations coordinator is available to provide administrative support throughout your journey and help ensure you're satisfied with your experience.
Job Search Support: The DigitalCrafts Student Success Team will be introduced early in the class, aiding in job search preparedness with career-focused days and training.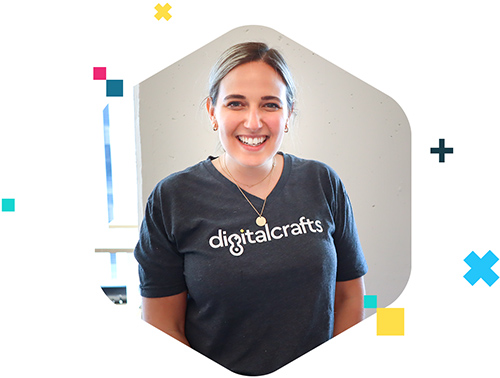 Elective Workshops
These one-hour online workshops occur monthly and will cover topics outside of the course curriculum to supplement your continued learning and development.

Career Days
The Student Success Team hosts career days, providing guidance and resources for your job search and may bring in guest speakers for networking or career advice.

Canvas - LMS
DigitalCrafts uses Canvas, a learning management system to deliver necessary class materials including the syllabus, assignments, grades, and more.

Community
Students will collaborate with classmates and tap into the DigitalCrafts community using Slack, our online communication tool.
Alumni Review
Alex R., a 2019 web development graduate, talks about why he chose a coding bootcamp instead of pursuing a Computer Science degree. He shares his experience as a DigitalCrafts student.
"If I had a question about anything, I would ask my teacher and he was more than helpful in explaining it. In the 2 jobs that I've had since I graduated, I've used technologies that I learned from DigitalCrafts, whether it be Express, Node, React, you name it. I honestly don't feel like I'd be where I'm at now, doing what I do, if I didn't take that step and apply."