News & Views
Say Hello to Our New Brand
Not seeing updates to our site? Try force refreshing your browser.
DigitalCrafts has a new brand! You may have noticed our new logo, and today we're rolling out a new look on our website.
Why We're Making the Change
We'd established our previous brand when we launched, and there was a lot we liked about it. It felt approachable, and we want to be a friendly presence when you're choosing a bootcamp or selecting a partner to train your team.
But a lot has changed since 2015, and we wanted to reflect those changes. We wanted a brand that felt vibrant and current, and we wanted it to resonate with a range of audiences.
A Brand That Stands Apart From the Crowd
We also wanted our brand to reflect who we are as a company, and what's important to us. Our new brand positions us well to stand out among other bootcamps and training partners, while reflecting our personable approach.
We asked ourselves what sets us apart. Here's what we came up with:
We're personable, with a hands-on approach. When you work with us, you're more than just a number. You'll meet with a member of our team, and we'll give you the individual attention you deserve.
Our instructors have years of real-world experience. We hire instructors who really know their stuff! They've worked in the real world, with real clients, for years. You'll learn from someone with expertise, who can teach you to solve the challenges you'll face in your workplace
Our graduates leave job-ready. When you graduate from a DigitalCrafts bootcamp, you'll have the skills you need to enter the workforce as a professional programmer. Along with teaching you the technical skills you need, we're here to help ensure you put your best foot forward: mock interview practice, resume reviews, portfolio guidance and more.

Our New Logo
We also revised our logo so that it felt more modern and friendly. We kept the wrench (see it turning the pixel in the first "i"?), while dramatically reducing the number of colors so we can more easily use it in a variety of contexts.
Together, the brand and logo feel bright, modern and more inclusive.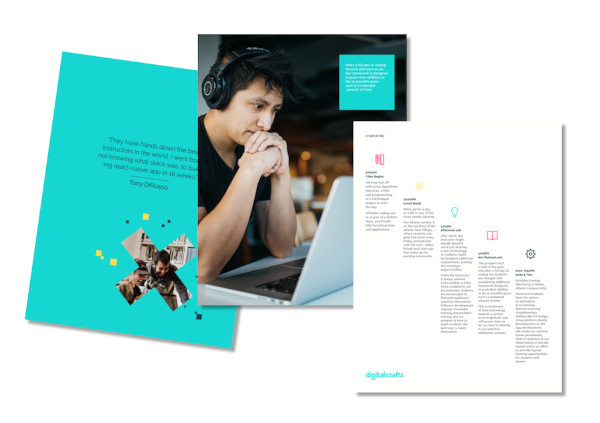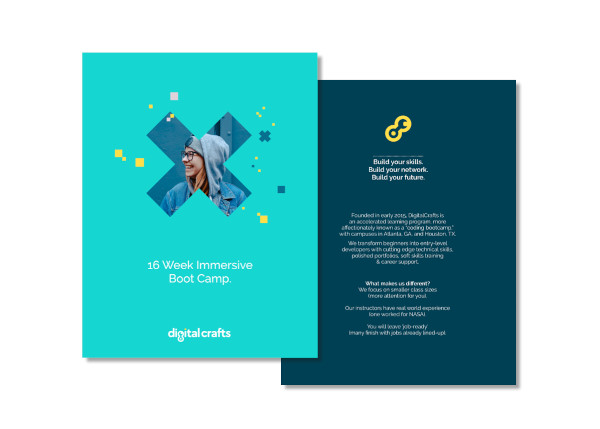 We're continuing to roll out the new brand across all our digital properties, and keep an eye out for some new merch coming your way in 2020!