News & Views
Getting a Job After Graduating a Coding Bootcamp: How I Did It
Stephanie Asmar was part of DigitalCrafts Atlanta's Full Stack Immersive June 2017 Cohort. She graduated in October 2017 and joined PT&C Digital (URL no longer active as of 10/2022) as a Software Developer. Stephanie was the first of six peers in her cohort to receive a job offer before graduation. We sat down with her to learn about her job hunting process and advice for fellow bootcamp students.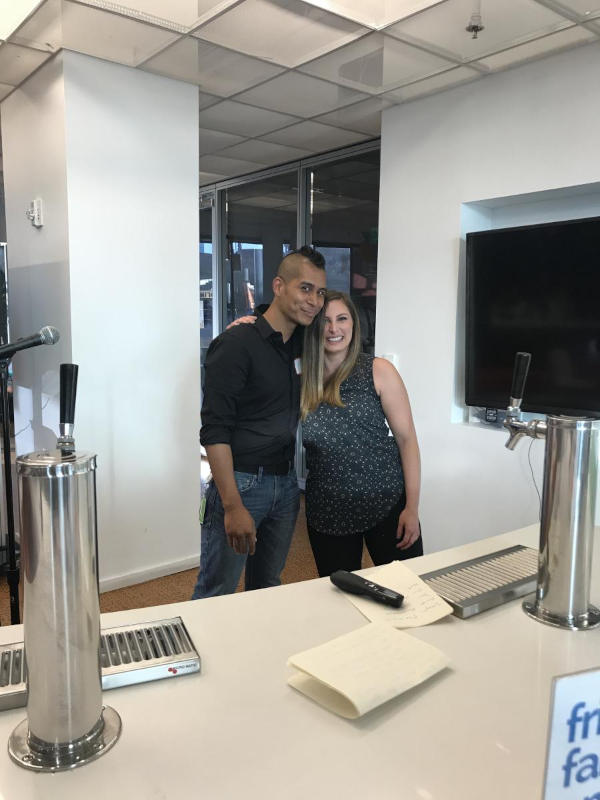 Chris Aquino, Instructor, and Stephanie at Demo Day
What were you doing before DigitalCrafts? DId any of those skills transfer over to your new job?
"I was working as an Operations Analyst at a Digital Agency. I had exposure to the software development lifecycle, Agile project management, and was able to see what a day in the life of a developer looked like. This prepared me well for my current job."
At what point during your time as a student did you start applying for a job?
"I began searching for a job about one month before graduation." (For reference, this is around Week 12 of DigitalCrafts' Immersive program, where students have already completed two group projects.)
Were you looking for anything in particular while looking for a job?
"I knew I wanted to work in a smaller, cohesive team environment, within a small to medium-sized company. Also, I've always gravitated towards UI, so I looked for a front-end position that would allow me the flexibility to grow into a full-stack developer over time."
LinkedIn, GitHub, or your portfolio: did you place more importance on one source over another?
"I put a lot of effort into my LinkedIn profile. In the past, I've had a lot of luck finding jobs through networking on that platform. I also made sure to commit to GitHub as much as possible, but LinkedIn is how my current employer found me."
What approach did you take when looking for a job? What was your process?
"I took a networking approach to my job search. I talked to as many people as I could in the industry. People were very willing to help a new developer break into the field. In the end, this paid off."
In your opinion, what was your key to success in landing your job?
"My key to success was letting my character and passion for development show. My employer could tell that I was really excited about what I was doing, and that I would bring that excitement to the job."
Launch Your Career In Tech
Interested in how you can jump-start your career as a new developer? Download our course packet for more information about our Full Stack programs!
Download Catalog