News & Views
How to Navigate the DigitalCrafts Admissions Process
Our students attend DigitalCrafts with one major goal in mind: starting a career as a developer. After spending all day in class and then going home to code more, preparing resumes and looking for jobs are daunting tasks. However, with determination and a new set of skills, our students are achieving their end goals.
Are you worried about the DigitalCrafts admissions process? No need to fear. The process is simple, and it's not as time consuming as you might think.
Step 1: Fill Out an Application
The first step of the process will take you roughly 5 minutes to complete. You will need to fill out the application form on our site. The information gathered in the form will be passed on to your dedicated enrollment coordinator, who will be your point of contact during the next steps. You can ask your enrollment coordinator any questions you may have at this time, or at any point during the enrollment process.
Step 2: Admissions Meeting
The admissions meeting is the next step of the process, and it will take you only a couple of minutes to sign up for your appointment. The meeting itself will take around 30 minutes. During that time, you will meet with an enrollment coordinator, who will ask you a few questions to learn about your goals. We'll also go over tuition options, the day-to-day of classroom life and how we will support you in your job search after graduation.
Bring your questions! Choosing the right bootcamp is a big decision, so we're more than happy to answer your questions.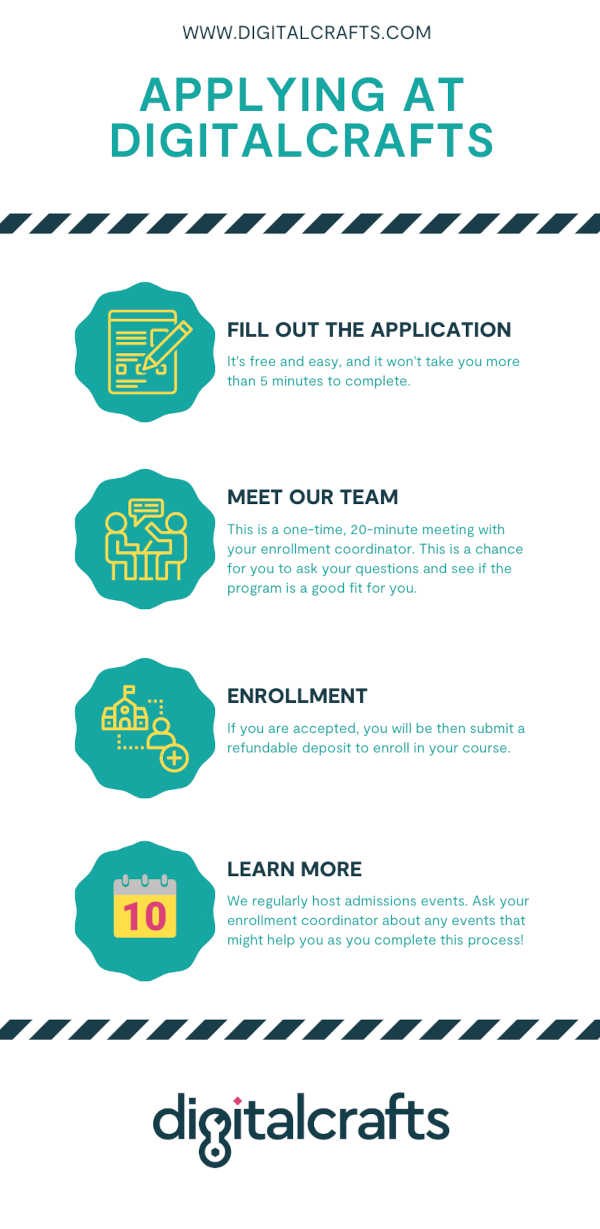 Acceptance and Enrollment
Once you have completed the admissions meeting, you will be notified by your enrollment coordinator if you have been accepted or not accepted. Once you're accepted into the program, you will need to submit your refundable deposit in order to be enrolled.Then you will receive an onboarding email from your campus director.
For More Information
We regularly host events that can assist you in your application process, like:
Q&A sessions about the program
Alumni panels
Instructor-led technical sessions, like HTML 101
We're committed to helping you through the admissions process, your education, career preparation and post-bootcamp experience. If you have any questions about DigitalCrafts, send us a message and we'll be in touch soon.
Send us a message