News & Views
5 Resume Building Tips for Aspiring Software Developers
Resume writing can be an intimidating task for many, especially if you are in the midst of switching careers, like many coding bootcamp students. The good news is that there are plenty of free resources online to help guide you as you begin to prepare for a career in technology. Part of my role as a Campus Director here at DigitalCrafts involves reviewing and critiquing the resumes of our students, many of which have never written a technical resume prior to attending our program. After some research, I pulled together some helpful tips to keep handy when building a technical resume.
There are a TON of free templates online. The following site may be helpful if you're looking for a more classic resume look: www.hloom.com. They've even categorized templates that are optimized for Applicant Tracking Systems (ATS). For a more creative design inspired resume, check out: www.canva.com and browse their free resume templates. The Muse is an awesome job hunting resource - check our their 41 Best Resume Templates Ever article some of our students have found very helpful. It's not a bad idea to create two versions if you have the time, if not, stick to a classic version that's compatible with ATS systems if you're applying via job portals!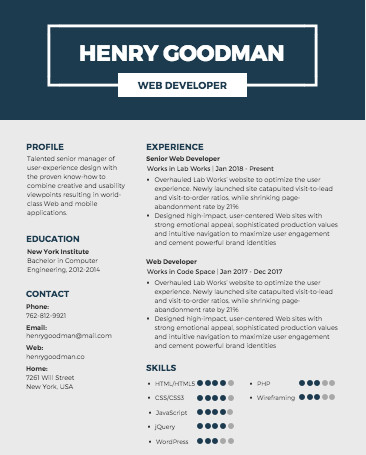 Tip 2: Research Industry Keywords
Do some research on common keywords and update your resume accordingly - pull keywords from the actual job description! Visit www.indeed.com/jobtrends for the latest job employment trends in your field.
Tip 3: Know Your Audience
Your resume will likely be viewed by 3 types of people:
HR Manager / Recruiter
Hiring Manager
Potential Teammates (Fellow Developers)
The goal is to make sure your resume resonates with each of them. LinkedIn will be your best friend! If you find a company you're interested in, browse through developer positions, research their backgrounds and don't be afraid to reach out with questions!
Tip 4: Don't Just List Your Technical Skills
Try to refrain from listing every technical skill set under your "Skills" section. Instead, use brief project descriptions as opportunities to tell what you did versus just listing off technologies. Check out this Bad Example vs. Good Example shared by Business Insider: How To Write A Developer Resume That Will Get You Hired.
Tip 5: Spell Check!
Self explanatory, but sometimes typos happen. Have someone review your resume before submitting to a job - sometimes it just takes a fresh set of eyes!