News & Views
Best city for learning to code? Atlanta is up there.
Where should I learn to code?
Learning to code in an Accelerated Learning Program or "Coding Bootcamp" can require a significant amount of time as well as financial commitment for an individual and/or family.
The other day, a prospective student asked me the question, "why should I learn to code in Atlanta?" So, I went home and did a bit of homework. In order to layout a macro picture, I researched 4 key areas to evaluate if Atlanta is, in fact, an ideal city for learning how to code.
Are there multiple options in the area? Why is this important?
How does cost of living compare to other cities?
Are there job opportunities available?
What's the tech and start-up community like?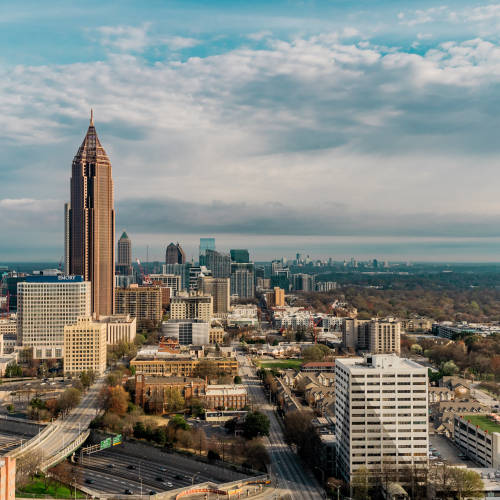 Are there multiple options in the area? Why is this important?
I decided to breakdown this question first, and a few questions came to mind… Are employers in the area aware of these programs? Are there successful coding bootcamp alumni in the area? Are there schools offering different programs and various curriculums?
According to Course Report's 2015 Bootcamp Market Size Study, the top 5 cities with the most coding schools are…
San Francisco - 12
New York - 9
Seattle - 8
Portland - 6
Chicago - 6
At the time of writing, Atlanta currently has 4 full-time, immersive code schools. Not far off the list! This means there are multiple programs working around the clock to raise awareness of the bootcamp model, and those programs are continually educating hiring partners and local corporations about their talent pools and curriculum effectiveness. Successful alumni are already spreading throughout the tech community which means a growing network of bootcamp alumni that will be (or already are) in hiring positions.
In addition, the presence of a number of code schools means higher competition in pricing (tuition) and more technologies available to learn. Keep in mind, if everyone in a given market is learning the same programming language and web stack, there are more alumni competing for the same junior-level positions.
How does cost of living compare to other cities?
Well, as someone who has travelled a good bit in the past, it doesn't take much to quickly look at the list of cities above to know Atlanta has a lower cost of living. Having said that, I went ahead and did the math using CNN Money's Cost of Living Calculator. Here's how Atlanta stacks up:
San Francisco +68%
New York +123%
Seattle +27%
Portland +26%
Chicago +17%
The percentages above are calculated using an annual salary of $75,000 in Atlanta, GA. Therefore, an individual living in New York would essentially need to make $165,000+ per year to equal that of someone living in Atlanta earning $75,000 per year.