News & Views
Career Switchers: Write Your Developer Resume Like a Pro
One thing that makes DigitalCrafts (and most coding bootcamps) unique is the wide variety of backgrounds that choose this path to a new career. Whether you're fresh out of high school, a burnt out lawyer, or recently finished a computer science degee, there's a good chance you'll find 15 different stories sitting next to you on the first day of class.
If you're thinking of switching careers to web development, you might be wondering: OK, even if I complete the DigitalCrafts program, what's next? Will anyone even hire me without experience? The short answer is: yes! The longer answer is, of course, a little more complex and depends on many factors, not the least of which is having a good resume. Many of the career switchers that join our program ask us if / how they should best include their prior experience in their resume considering it's likely not directly related to software development. Following are a few tips on what you can include to ensure your brand new developer resume is competitive.
Rethink the Structure
The average length of time that a hiring manager takes to look at a resume is 10 seconds. That's not very long! What does this mean for a career changer? It's up to you to guide the reader's attention directly to your pertinent full stack development experience, in this case, all your hard work at DigitalCrafts. How? Put DigitalCrafts on the top! Two ways to do this:
Option 1: Put your Experience section first, and list DigitalCrafts first here (even before your current job). Under a short course description, describe 2-3 of your most impressive projects, including project end dates and links to Live Demos and GitHub repos. Follow with your other work experience, and an Education section under that.
Option 2: Put your Education section first, and list DigitalCrafts first here with a short course description. Next, add a Featured Projects section, where you describe your projects as in Version 1 above, followed by a Professional Experience section, where you list your other experience.
Focus on Transferable Skills
Worried that all your professional experience is in a field unrelated to web development? Maybe you're coming from a career that's not even in the tech industry? You might be surprised at how much of your seemingly unrelated experience is directly transferable; it just takes a slight change in your perspective. The key is to stop looking at your past experience in terms of roles and responsibilities, and rather focus your attention on the specific skills you used in these roles and responsibilities.
For example, are you coming from a career in the service industry? Well, it takes a lot of attention to detail to get orders right and ensure customer satisfaction. In addition, waiting tables requires a lot of memorization and adaptability, so you're probably a quick learner. You have also been trained to juggle many orders and requests; therefore, you are clearly capable of multitasking several projects and prioritizing deadlines. Were you a stockbroker before discovering your interest in code? You most likely developed strong problem solving and analytical skills determining the best stocks to buy and sell, and the most optimal times to do so. What about if you are coming to DigitalCrafts as your entry to civilian life after a long military career? First of all, thank you for your service! Second of all, you're probably a quick thinker and an expert troubleshooter.
Here are some examples of Experience bullet points that we've seen career transitioners use on their developer resumes to play up their skills:
Skill: Troubleshooting. Experience: Tech support
Troubleshot and repaired faulty data display systems, saving valuable man hours and an estimated $385,000
Skill: Problem solving. Experience: Customer service
Worked with customers to quickly identify problems and develop solutions
Skill: Analytical thinking. Experience: Sales
Achieved cost reduction of 10.5% ($85K in 6 months) through vendor consolidation and renegotiation of service contracts
Take a look at some of these common transferable skills. Can you think of a way to use them in your developer resume?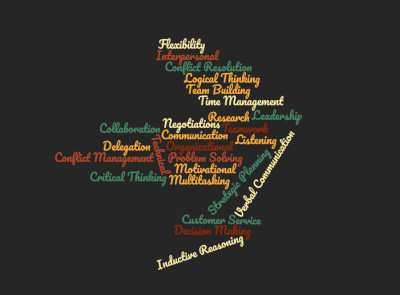 Quantify Your Experience
Remember, quantifiable achievements are always impressive, no matter what field they are in. Clearly demonstrating that you made a measurable difference in your company will always set you apart from the crowd.
For example, if your experience is in stock trading:
Actively managed portfolio of $5MM+ over a 16-year period navigating volatile markets and rapidly changing markets
Increased portfolio value by 30% while managing a team of 6 junior equity traders
Optimized trading strategies by implementing a quantitative and data analysis approach leading to an overall cost savings of $3MM in 5 years
Start with a Summary
While most resume experts agree that an Objective section is outdated, a well-written Summary section can be especially helpful for career-changers, or even recent college graduates. What's the difference? In a nutshell, an Objective discusses the kind of job you want, a Summary highlights your past experience and skills. This can be especially helpful if you don't have any prior experience in web development or the tech industry—you can use the Summary to quickly highlight your transferable skills. Think of it as your "sales pitch."
Pro-tip: Before applying for a job, check your Summary section to make sure it highlights skills that are mentioned in the job description. If it doesn't, change it!
Don't Forget Extracurriculars
Have you participated in Hackathons? Are you a member of any developers' associations? Taking any courses on CodeAcademy or FreeCodeCamp? Be sure to add a section for these on your resume. Hiring managers look for applicants who take the initiative; showing that you are so dedicated to coding you even code in your free time will go a long way.
Finally, remember, that the end of your time at DigitalCrafts you will have experience—four months of intensive, daily experience in some of the most cutting-edge full stack web development technologies that are available today. Presenting an employer with a well-crafted developer resume that highlights this experience, as well as your applicable transferable skills, is key to getting your foot in the door and demonstrating that you're up for the job.