News & Views
DigitalCrafts Chats with Women in Technology
As men and women gather to celebrate International Women's Day, a day dedicated to celebrating the achievements and progress women have made socially, economically, and politically across the globe, one area that holds a tremendous amount of significance for DigitalCrafts is the focus on women in technology.
Many media outlets have boldly shared articles and statistics on the growing gap when it comes to gender inequality for women in the tech industry. In fact, Huffington Post released an article revealing that "the gender gap in science, technology, engineering and math (STEM) has widened since the 1980s, when 37 percent of all computer science graduates in the U.S. were women." What's even more alarming? The fact that today that percentage has dropped to 18 percent and women will likely only make up 3 percent of the predicted 1.4 million computing-related jobs by 2020.
Thankfully, with the introduction of accelerated learning programs and the plethera of Massive Open Online Courses (MooCs), women now have more options when it comes to pursuing a career in programming. However, that still leaves the question as to why this gap continues to grow. Over the past couple of days, I asked questions and gathered valuable insight from some of our current female students as well as female alumni who are currently working in tech-related fields. Here's what they had to say:
With this growing gender gap and you being a new woman in technology, what do you think will help inspire women to enter the tech field at a younger age?
"Representation matters. When you're young, you're impressionable to everything. If you see someone like you doing something, you will assume it's possible for you as well, without much thought. Unfortunately if you can't see someone you relate to doing something you find interesting - in this case, particularly subjects within Science, Math, and Engineering, instead of the automatic assumption that this is within your reach, you instead spend time wondering why. Why isn't there anyone like me in this field? What about this field has either driven people like me away or has kept them out? Of course, the answers to these questions are complex and dependent on years of history of outdated gender roles. But to someone young and impressionable, what matters is that there clearly must be a reason women ahead of you are so hard to find in this field...It's critical to build strong support networks as women in tech in order to understand that although you're a gender minority in tech, you're not alone, as well as to remain visible to those younger than us, looking for assurance that they too can find their place in this field." - Anna Sedlar, Current DigitalCrafts Immersive Student
"I find it inspiring to talk to women to talk with women who are doing what they love in the tech industry and hearing about: how they started their career in the tech field; the journey they took to get to where they are; the projects and accomplishments they are proud of."- Sarah Basinger, Current DigitalCrafts Immersive Student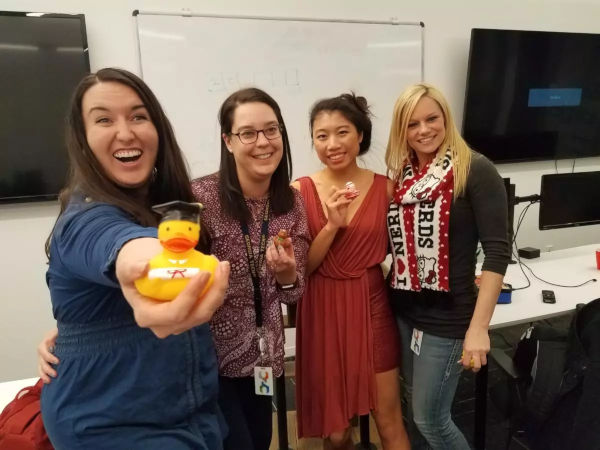 Another topic of discussion that comes up often in my conversations with our female alumni is their experience and sentiment towards entering a male-dominated industry. As if the transition into programming wasn't daunting enough, our lady graduates have felt an underlying pressure of proving their capabilities as they position themselves as professional software developers, a title that's mostly coveted by their male counterparts. Inspiringly enough, several of our #ladybuilders have gone on to land software developer positions at companies as large as the Home Depot and as small as Ten.O. The common quality among those that have landed successful programming positions beyond our program? Confidence and persistence.
One of our recent graduates, Jesslyn Landgren, shared her personal experience as she has had the opportunity to enter a male dominated field on two separate occasions. Jesslyn recently started a position as a front-end developer with Atlanta based OneTrust, an enterprise software platform for data privacy compliancse. See what she had to say below.
What has it been like entering a male-dominated industry as a new software developer?
"I've entered a male-dominated industry twice, 6 years apart, and my experience the second time was very different. My current field is actually more dominantly male, but the workforce is also much younger and I'm experiencing a much more supportive workplace than I ever have. I think the key is to have patience and realize that. One of the best ways to further the advancement of women in tech is to just be a woman in tech. As far as what it's like? Well, I have to work a little to find common topics of conversation sometimes. There are a lot of times that there are literally no other women in the room, but I haven't witnessed any forms of sexism at my current job."
At DigitalCrafts, we've been very fortunate to have the opportunity to provide women with the skills, tools and confidence needed as they begin their careers in software development. Today, women make up roughly 30 percent of our classes in both Atlanta and Houston. As far as the gender gap in technology? We're working hard to even the playing field by producing driven, passionate programmers, some of which just happen to be women.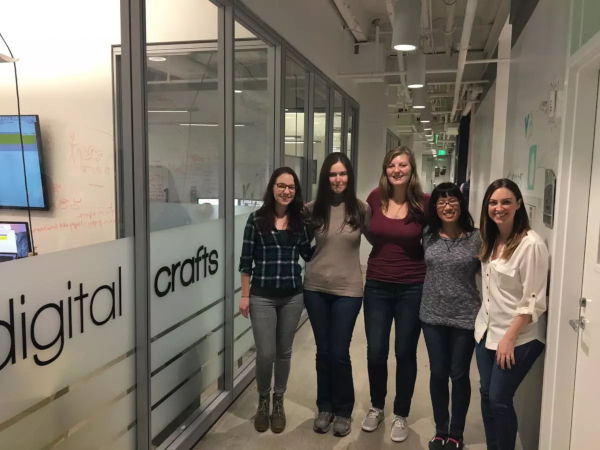 Are you an aspiring female software developer or do you know someone who is looking to start their career in programming?
We'd love to talk to you about our program and scholarship opportunities for women. Feel free to reach out at hello@digitalcrafts.com or give us a call at (770)858-5806. We're happy to coach you on how to get started by connecting you with local women in the tech community!