News & Views
DigitalCrafts Launches Part-Time Coding Class for Working Professionals
DigitalCrafts is excited to announce our first part-time coding class for working professionals. The new Full Stack Flex Program will take place in the evenings and on weekends, and is the part-time equivalent of our Full Stack Immersive Program, which has helped make DigitalCrafts the highest-rated coding bootcamp in Georgia and Texas. We're now enrolling for Flex classes at both our Atlanta and Houston locations on a rolling basis.
Apply Today
Our full-time Immersive Program is certainly not going anywhere, but our goal is to make the classroom as accessible as possible to students who already have a full-time job or other commitments that don't allow them to attend our full-time Immersive program. Absorbing the material and practice typically reserved for a full-time class will be no easy feat, so the Flex Program will last 6 months and maintain the same selective admissions process that has been the cornerstone of our alumni success to date.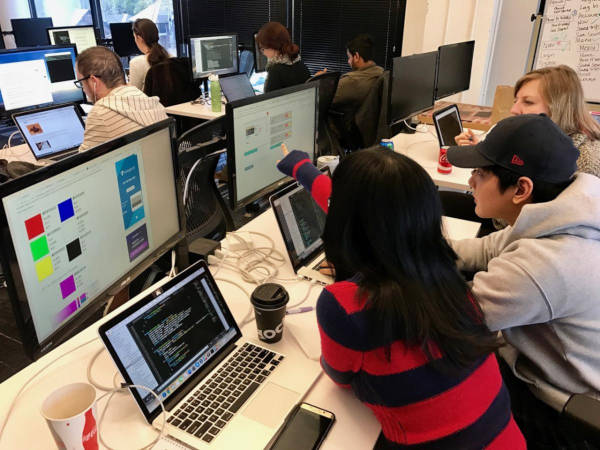 Flex and Immersive students alike learn the ins and outs of full stack web development, allowing graduates to build fully functional web applications and pursue myriad opportunities across the web stack.

And if you're reading this and wondering what we mean by "stack," you aren't alone! You'll learn more in class, but to clarify, a stack refers to the layers of technologies working together to power software on the web. A stack is essentially made up of the "front end," the visual aspects that a user sees and interacts with, and the "back end," which may consist of a database (think Microsoft Excel) running on a server with specialized software. Our curriculum trains beginners as "full stack" developers, meaning a person with experience across both the front and back ends of web development.
After graduating, our alumni earn job titles like: Software Engineer, Software Developer, Front End Web Developer, Jr. Full Stack Developer, Web Application Developer, Node.js Developer, JavaScript Developer, or Jr. Cloud Developer. Come check out our program and see how we can help you launch your career!
Download Catalog