News & Views
A Bootcamp Graduate's Educational Journey
Lee Arnold started his career as a Scrum Master in 2018 after graduating from DigitalCrafts's web development bootcamp. As a scrum master he handles the people side of project management, making sure developers are moving toward the same goal. He likens it to a sports team. Behind the scenes you have "back of the house" employees like general managers, recruiters, operations coordinator–all of the people who help make the team successful behind the scenes. The scrum master helps the engineering team be successful behind the scenes. "We own pretty much the day to day of a team's success," says Lee. "We bring all the people together, make sure that we're speaking the same language, and that we're looking at things collectively and collaboratively. When things are off track, we're the people who keep everyone accountable."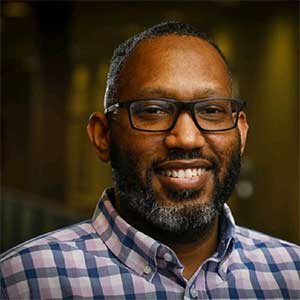 Before becoming a scrum master, Lee worked as a high school social studies teacher. When funding for his position became precarious and he knew he needed to find a career with more stability. A friend of his suggested he consider becoming a scrum master and after evaluating it as a potential career choice he began his career pivot. Lee received his scrum master certification but had a hard time breaking into the field with that alone. He figured learning to code could help him successfully change careers. "I started learning to code on my own, but I was hitting a lot of brick walls," Lee recounts. "I'm the kind of person that needs to talk with someone who understands it."
That's when Lee applied to DigitalCrafts. He knew that he would be more successful having the structure of a formalized program. He was able to attend classes part-time after work and work alongside students who could relate to the challenge of working and being a student. "For me it was a great environment. I felt like I was working with a bunch of people who were in the same position that I was. We were all trying to learn this new skill and there was a sense of community for us. I still talk to several of the people in my cohort today," Lee mentions.
In addition to working with classmates who really supported one another, Lee connected with his instructors as well. "Our instructors were great. They asked challenging questions. They never really told us how to get the answer. They just pointed us in the right direction, which is a skill that as a developer or even in what I do today is extremely important." His instructors empowered students to find their own answers, but they were always available if guidance was needed.
Although Lee felt supported by his classmates and instructors, it didn't stop him from experiencing challenges with complex concepts or material. "I worked in education at the time, so I had to put myself in the shoes of my students and understand that I wasn't just going to get this right off the bat because I wanted to. I was going to have to work at it and that's perfectly acceptable. You have to be willing to fail and learn and grow," he states. During times when he felt stuck, he would walk away from the material for a bit or move on to something easier until it clicked.
Along with having the right mindset, another thing that helped Lee during and after bootcamp was reading. "As a learner, I need to understand the why behind concepts so I would read the theory behind what I was learning to help me with my practice. Or sometimes I'd look at other perspectives to just make more sense of it." Lee recommends all students read to supplement their learning and find other methods to solve the same problems. There is not usually one right way to solve a problem in web development so looking at it from different angles can be beneficial.
After going through bootcamp, Lee participated in Demo Day, where students show off their portfolio projects that they've worked on during the course of their bootcamp. During Demo Day, he connected with the man that would become his future manager and landed his first scrum master position. "Your network is directly equivalent to your net worth. The bigger your network, the greater potential for your net worth and I can't stress that enough," Lee asserts. Networking at Demo Day helped him land his first role and he paid it forward. He introduced a fellow classmate to someone at this current company and they landed a role at the organization as well.
After landing his first tech role so much changed for Lee. "I could talk about the money aspect of it but the bigger thing isn't the money itself, it's what it's allowed me to be able to do," Lee explains. "There's a lot of flexibility. If I'm sick, I don't feel guilty taking a day off. I have PTO that's actually valuable, healthcare benefits, all those things," he continues. "My physical health is better. There's just so many things that have gotten better from making this choice that I kick myself for not doing it five years earlier."