News & Views
How A Career in Tech Can Increase Your Job Security
Whether you're still looking into attending a bootcamp, have enrolled or are in the middle of your cohort, you've likely been thinking about job security in your new role as a developer.
You might be wondering how stable the tech industry really is, especially in such unprecedented times as a global pandemic. Here's what we know about the ways the tech industry has adapted to waves of economic uncertainty over the past decade—and how a career in tech can give you job security in the years to come.
Remote Work and Freelancing Give You Options
As a developer, you have the ability to work from anywhere, as long as you have a computer and a solid internet connection. Why is this important? It means that you can apply for jobs around the world, without being restricted to a single city or town.
And as we've seen, tons of companies have shifted to remote work. Many plan to remain so—in fact, 74 percent of CFOs in a recent study expect some of their employees who were forced to work from home because of the COVID-19 coronavirus pandemic to continue working remotely after the pandemic ends. This week, Twitter announced that it will allow employees to work from home "forever," and it's likely other companies will follow suit.
Another option is freelancing. As you hone your skills and develop your network, you may be able to generate a solid living by working on projects that mean the most to you, and being able to work with multiple groups will only diversify your portfolio.
Online Everything
While already ranked No. 1 in the U.S. News & World Report Best Jobs of 2020, software developers are listed second in U.S. News' 19 Careers With the Most Job Security, given the demand for many kinds of businesses to move online.
In a digital age, especially during this time of a global pandemic, more and more people are turning to online business models, purchasing goods and services at an increasing rate and from more vendors than ever before.
From shopping to grocery delivery, conferencing software and even sock subscriptions, the companies that we're increasingly turning to have to make sure their customers can access their sites and apps. This means they'll need to have developers on hand to make sure everything stays up and running, and that any bugs or glitches can be fixed right away.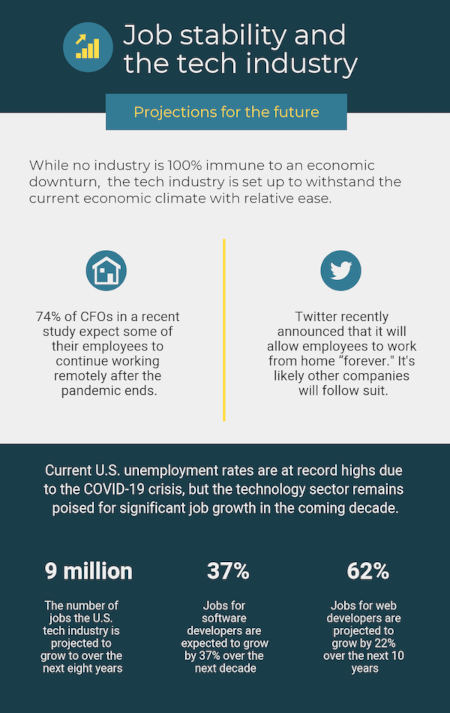 Looking Ahead
According to a Cyberstates 2020 Report put out by the Computing Technology Industry Association (CompTIA), the U.S. tech industry is projected to grow to nearly 9 million jobs over the next eight years, despite high national unemployment rates due to the COVID-19 crisis.
Over the next decade, CompTIA projects that jobs for software developers will grow by 37%, and jobs for web developers to grow by 22%, among other tech jobs in the industry.
While no industry is 100% immune to an economic downturn and we can't guarantee a perfectly secure job, based on the numbers, the tech industry is set up to withstand the current economic climate with relative ease.
Sean Reid, one of our instructors for our Immersive program, shares his experiences as a developer through economic downturns in the past.
Ready to take the next step in your career and become developer?
Download our course packet for more information about our full-stack web development bootcamps.