News & Views
Web Development In 2017
For the past few years, Stack Overflow has conducted a large-scale developer survey to gather information on how thousands of professional developers work, learn, and grow. Since the information comes directly from people working in the field, and not from secondhand or unknown sources, this survey is one of the best possible tools available to help understand the common traits, tools, technologies, and backgrounds of developers.
Of particular interest is the large amount of developers who indicated they are at least partially self-taught. Also of note is JavaScript, which has held the title of the most widely used language five years in a row. Agile also continues its reign as the most popular project management tool -- great news for coding bootcamps like DigitalCrafts that include Agile methodologies in training and group work.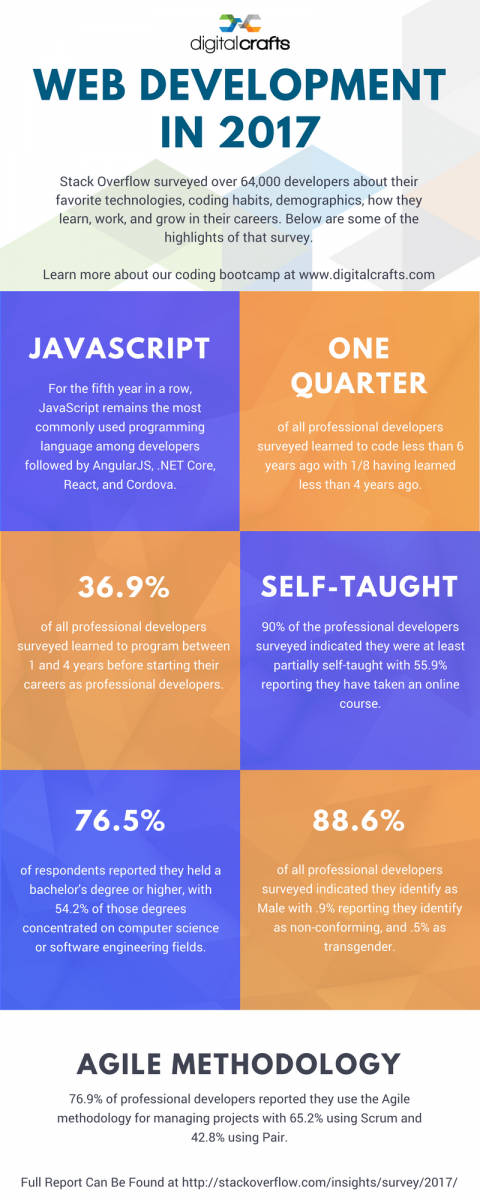 Full image can be found by clicking here
It should also be encouraging to new web developers that over a third of those surveyed indicated they began working as professional developers after less than four years after beginning to learn web development or software engineering. At DigitalCrafts, our full-time immersive program lasts just 16 weeks and our part-time flex program lasts only 24 weeks. With the growing popularity of coding bootcamp programs like ours, it's likely that the percentage of people working as professional developers after less than a couple years of study will continue to increase.
If you'd like to learn more about our program, please send us an email at hello@digitalcrafts.com and we'd be happy to tell you more.