News & Views
What's the First Day of Code School Like?
October 12th finally came and went, and we couldn't be more excited to get started with this Fall's Atlanta Cohort. We're going to keep our readers up to date as this cohort progresses, but let's kick it off with a quick glimpse into the group's first day together.
As you might imagine, the first day of code school starts out with a bit of networking and a well caffeinated drink (or severalwell caffeinated drinks). Here in Atlanta, we've partnered with a local start-up, Silverback Roasting, to provide our students with a wide variety of international coffee beans which are hand roasted before delivery (thanks Silverback!). Today's bean of choice hails from India's Shevary Hills region and it does the trick. But, that's enough about coffee...
We had a good feeling that this group was going to get along great, and it was great to see that feeling come to fruition from the get-go. Cheesy as it sounds, it's nearly impossible to spend over 700 hours in a classroom with a small group of people and not walk away with some lasting friendships, and a strong class bond is essential to a successful and enjoyable cohort. After students took some time to meet one another and hear a few words from our team, out came the swag!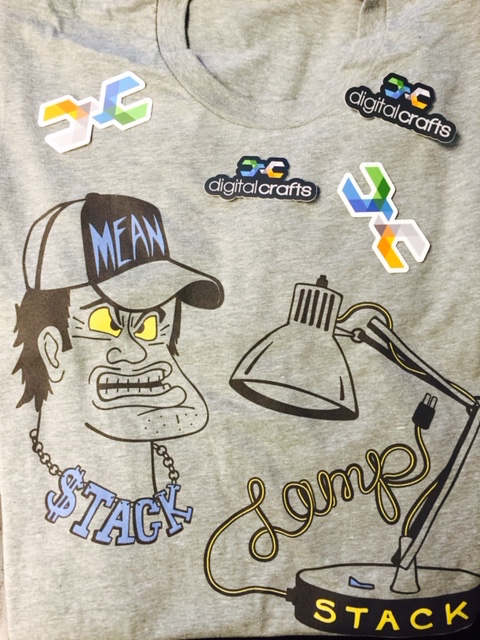 Our t-shirt was designed by a local artist, graphic designer, and friend, Mandy Cobb.
After everyone got settled in, we felt some more personal introductions were in order. This morning, we broke out the ole' fashioned "Two Truths and a Lie" ice breaker. We heard about wild adventures through Thailand, near professional sporting careers, borderline criminal driving records, and of course everyone's goals after graduation.
Try for yourself: Meet Will Wyatt. Will has played basketball competitively for many years, and while being 6' 9" today unfortunately his basketball career took a wrong turn after an injury to his knee. Will's goal after graduating from the 16 Week Immersive Bootcamp includes pushing an app to the Apple App Store, securing a web or mobile development job with a local company, and increasing his ability to support the non-profit organizations where his passion resides. When playing Two Truths and One Lie, Will stated the following 3 items: 1) I've been proposed to twice in my life, 2) I was barely 6' tall as a senior in high school, and 3) I almost died while traveling through the Swiss Alps.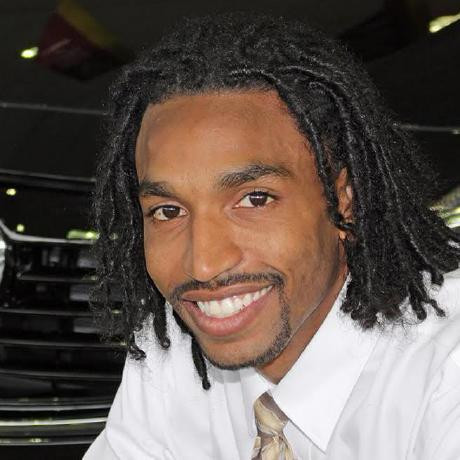 If you chose #1, you're right!
After a social morning it's time to get everyone's development environment squared away. We put our bandwidth to the test as everyone installed software and got accounts setup. Finally, students jumped head first into their first project incorporating HTML, CSS, and a touch of Javascript. Prior to class, each student was required to complete ~30-40 hours of pre-requisite work covering a variety of programming languages and technologies, but there were still plenty of learning opportunities and challenges within the first project. Once everyone had a grasp on the key concepts covered, it was time to push their first repository to Github. GitHub is an important tool for version control but it can also serve as a pseudo-resume for future employers.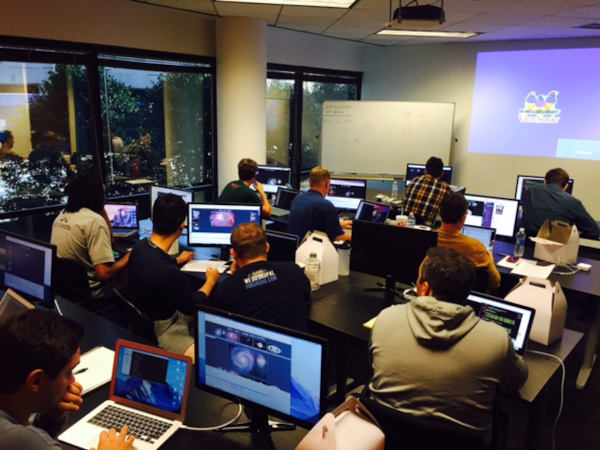 Students working through their first assignment to build an Image Gallery.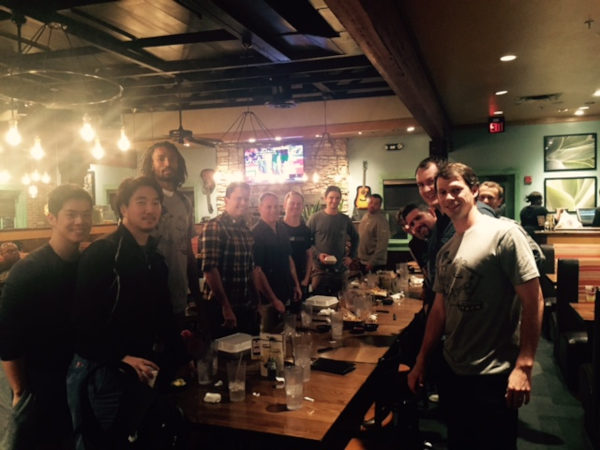 After a long first day, it's off to dinner!
That wraps it up! I hope I was able to provide you a glimpse into what it's like on the first day at a code school. Stay tuned for more updates as this cohort progresses and keep a look out for some more from our 'Student in the Spotlight' series soon. If you're interested in learning more about DigitalCrafts and our 16 Week Immersive Bootcamp, please don't hesitate to reach out to our team directly at hello@digitalcrafts.com.
Sincerely,