News & Views
Instructor Profile: Mya Williams, UX Design
Meet UX Design instruction Mya Williams. Mya is a UX engineer, educator, and social justice advocate from Detroit. In her capacity as the Lead UX Instructor at DigitalCrafts, we talked with her to learn more about her career journey, her professional passions, and what students can expect from her in the classroom.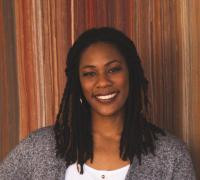 How did you become interested in UX Design?
My mom was a software engineer, my brother is a front-end developer, and my cousin is a full stack developer. The three of them encouraged me to pursue a career in tech. I taught myself some coding basics and then enrolled in a coding bootcamp and earned a certificate in UX Design and Front-end Development.
What did you do before becoming a UX Designer?
I have a Bachelor's degree in Health Science and I was a math teacher. Going into tech wasn't in my plans, at first. But here I am and it's really cool!
How do you think your experience as a former bootcamp student will impact your teaching?
As a bootcamp graduate myself, I know how hard it is. I know how it feels to totally change course and start a new career. I understand the stress and feeling like you don't get it. But I also know the feeling of when you finally do get it and start to see the rewards of all of your hard work. I think it helps to know where students are coming from.
What are some of the differences between working in the public school system and tech?
One of the biggest differences is the independence you have when working in tech and how creative you get to be. When you're teaching, there's a very specific way schools want things done. It's very rigid. In tech, specifically UX, it's about figuring out solutions to problems. There's a lot of freedom in that to explore different methods, research, and solutions.
What's your favorite part about working in UX Design?
My favorite thing about UX is that it's very varied. Some days I'm working on research, others I'm working on design. I have a lot of right-brained and left-brained qualities and I get to use both. It's very interesting; it hasn't gotten boring yet.
What's the most challenging part of working in UX Design?
The most challenging part to me is making sure everyone's experiences are heard and taken into consideration. Sometimes there can be pushback from the stakeholders so you really have to advocate for your ideas and make sure your research is compelling enough to make your case.
What can students expect from your class?
They'll explore how to combine what users want and need with what stakeholders and other leaders want and need to make a product that people will buy. They'll also study visual design and we'll have lots of conversations about ethical design, learn about different career paths, and learn how to solve real world problems with our work.
What's something you want students to know about UX?
Everyone's varied backgrounds and experiences will come in handy. You can offer a very unique perspective just because of who you are. Some people don't think tech is for them because they don't see people like themselves in tech. As a UX professional, your role can be used to make something better. It's cool to have the ability to make that big of a change in a product.
What trends are you seeing in the industry?
There's more of a conversation around bias in design, inclusiveness, and accessibility. I've also noticed an increase in potential employment opportunities. I think this is because companies are seeing the value that a UX designer can provide.
What's a common misconception about UX Design?
You don't have to be a super skilled artist to be a UX designer. UX is for creative people and analytical people. There's space for both because there are many facets to UX design and there are a lot of ways to create digital art.
How would you describe your teaching style?
I'm definitely the teacher students can come to with any problem. I bring the design thinking process into almost everything when it comes to problem solving. A big priority for me is helping students rid themselves of imposter syndrome and the thinking that they can't do UX design or work in tech because they don't see people that look like them in tech. I try to do a lot to help with those mental barriers so there's room to learn.
Ready to start your educational journey in UX Design? Apply Now, or sign up to receive our Course Catalog.