News & Views
How to Use An Installment Plan To Pay For Your DigitalCrafts Bootcamp In Four Payments
Paying for your tuition at DigitalCrafts shouldn't be a roadblock on your path to a career change. That is why we offer an installment plan for students to use to pay for our part-time programs. With this option, you can pay your tuition in four equal payments throughout the course.
Here's how it works:
Step 1: Secure Your Seat
Once you're accepted into the program, secure your seat prior to class by paying your $250 deposit. This amount will then be deducted from your total tuition fees, leaving you with an approximate balance of $ 9,700*.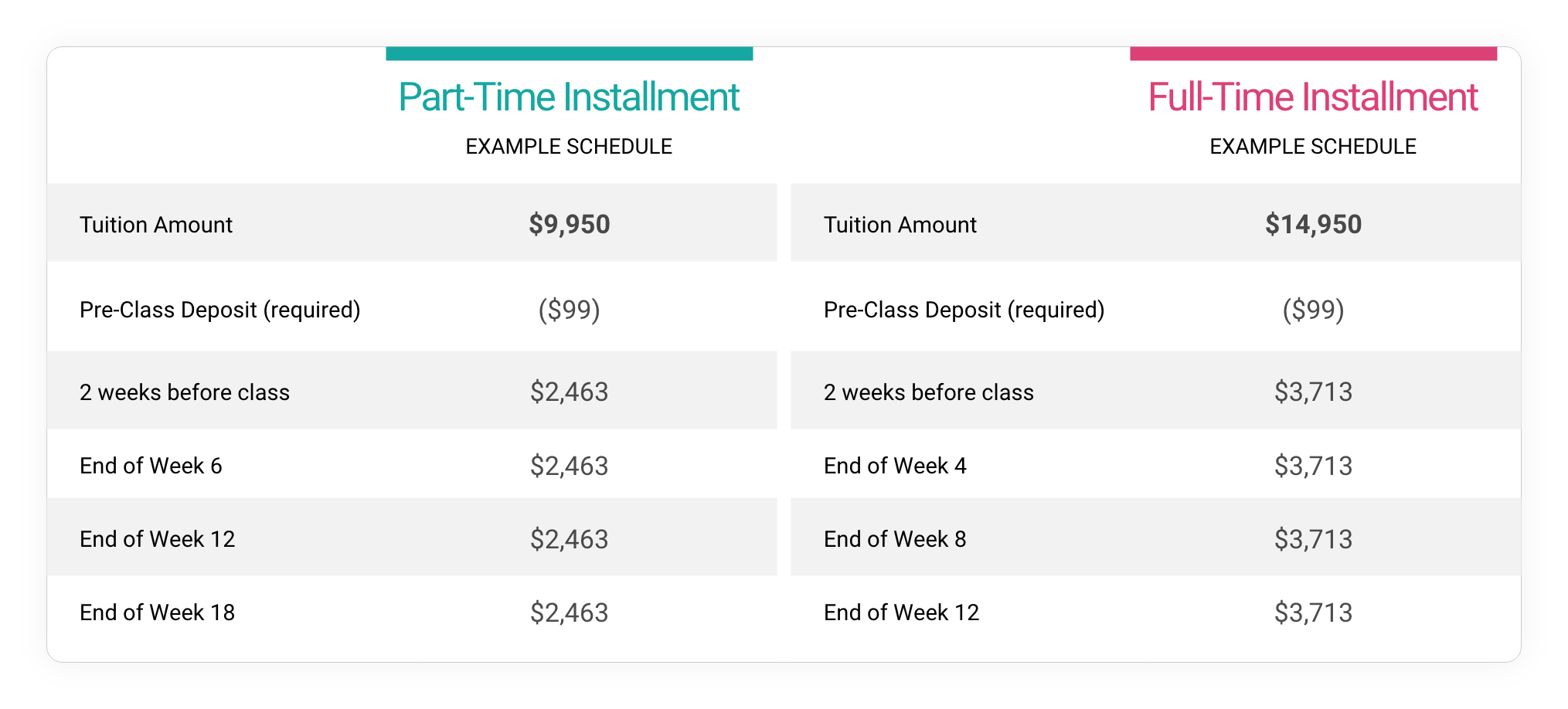 * Your total tuition may vary due to scholarships and discounts awarded to individual students.
Step 2: Make Your Payments Over Time
You will then receive an invoice in your email with a link of where to make your payments on Weeks 2, 9, 16 and 22 of your bootcamp. You can pay either via ACH (bank transfer), debit card or credit card.
Here's an example of what that looks like. Say your class starts January 21, 2020.
First payment due: January 28, 2020
Amount: Approximately $2,550
Second payment due: March 17, 2020
Amount: Approximately $2,550
Third payment due: May 5, 2020
Amount: Approximately $2,550
Fourth and final payment due: June 16, 2020
Amount: Approximately $2,550
The Fine Print
There are a few other details to mention:
With all of our programs and payment plans, if you decide to not attend DigitalCrafts, your deposit is 100% refundable.
There is a $250 processing fee if you opt to use the installment plan.
If you opt to make payments with a credit card, there is an additional 3% processing fee.
We currently offer part-time web development training. Our part-time UX design and cybersecurity programs will launch in 2022.
Other Payment Options
If you're interested in other payment options or if you're planning to attend our full-time Immersive program, we've got you covered. We offer a number of ways that you can pay for your coding education, including financing options and scholarships. You can learn more on our tuition page.