News & Views
Which Companies Hire Bootcamp Grads?
Signing up for a coding bootcamp takes a leap of faith. You're investing hundreds of hours and thousands of dollars into learning new skills, all with the hopes of landing a job afterwards. But can a bootcamp really prepare you for the job market in months?
Of course it can! You'll need to put in some hard work to land the job after you graduate, but we'll help you along the way. In this post, we'll include tips for the job search from our alumni, along with more information about companies that hire bootcamp grads.
Companies Of All Sizes Hire DigitalCrafts Grads
Our grads have received offers from brands you know and likely use: LinkedIn, JPMorgan Chase, The New York Times, Facebook and more.
And if working at a big company isn't for you, we've got you covered. Our grads have gone on to work for small agencies and startups like Insiten, Ware2Go, Timbergrove and Big Nerd Ranch.
Here's a little more detail about some of the companies our grads have gone on to work for.
The Home Depot
Headquartered in Atlanta, Georgia, The Home Depot is the 5th largest e-commerce retailer in the U.S. This company serves millions of people worldwide, and 90% of their code is written in-house by their software engineers. Talk about impact!
In addition to benefits like 401k matching, paid parental leave and on-the-spot rewards for a job well done, The Home Depot offers perks like pet insurance, dollar-for-dollar matches for nonprofit donations and discounts on cell phone bills.
WarnerMedia
Once known as Turner Broadcasting, this media conglomerate is now known as WarnerMedia. Obsessed with true crime? Chances are, you've watched it on WarnerMedia's TruTV. Love your late-night Adult Swim cartoons? Also WarnerMedia. Or maybe you prefer to tune into news media like CNN—a subsidiary of WarnerMedia.
WarnerMedia offers the benefits you'd expect, along with a variety of employee volunteer events, donation matching and paid time off for volunteering. They also invest in their employees' professional development, offering leadership coaching and an annual Shape Your Story Week, which consists of five days of learning, development, well-being and speaker sessions.
IBM
IBM researches, develops, manufactures and markets technology products ranging from mainframe computers to cognitive solutions. Their benefits package is robust and available online.
Daily immersion in an international community of tech experts means endless opportunities for inspiration and growth—what more could a new technologist ask for?
Slack
Slack is everywhere, making people's lives simpler and more productive with its channel-based messaging platform. Slack keeps their employees' lives pleasant by offering the full gamut of benefits and perks: 100% medical and dental coverage, generous PTO, 401k matching, paid gym memberships and more.
Mailchimp
Mailchimp is an all-in-one marketing platform that allows users to create email campaigns, landing pages and more through its content creation tools and marketing CRM. With offices in Atlanta, Brooklyn, Oakland and Vancouver, the company offers a number of software engineering roles and internships.
Mailchimp gives its employees a wide range of perks, including conference attendance, internal apprenticeships, unconscious bias training, and learning through Mailchimp University. They also provide ample parental leave and a "next-level" 401k program.
Other Companies That Hire Bootcamp Grads
In a recent article, AngelList published a list of companies that hire bootcamp grads. Among the 41 companies mentioned:
Vimeo
Scribd
Embark
Synapse
Simon Data
WhereTo
DigiFi
Greenhouse
Segment
Tochech Technologies
Give Lively
Stride Consulting
PwC
Mixpanel
Bootcamps are a Fast Track to Getting the Tech Skills You Need
Bootcamps provide a fast track to learning the practical skills that employers are looking for. In just weeks, you'll gain abilities that will help you start a new career.
Bootcamps aren't just for people who are looking to change their careers, either. You could use your bootcamp education to advance beyond your current role.
Because bootcamps are taught in a compressed timeframe, you'll also learn soft skills that are valued by the companies that hire bootcamp grads. These skills include time management, collaboration, problem solving, critical thinking, project management and communication skills.
Here are 6 more reasons why bootcamps are worth it.
Do I Need An Undergrad Degree To Succeed In The Tech Industry?
Candidates have historically been expected to hold a 4-year technical degree, but times are quickly changing. Companies increasingly value demonstrable skill sets over formal degrees, opening the door to a whole new pool of previously overlooked talent.
Even tech powerhouses like Apple, IBM and Google have done away with their undergrad degree requirements. In fact, Apple's CEO Tim Cook has said there is a mismatch between what's taught in colleges and the skills employers need, adding that as much as half of Apple's team does not have an undergrad degree.
DigitalCrafts Prepares You for the Job Search
A Curriculum For Today's Marketplace
At DigitalCrafts, we adapt our curriculum to the changing needs of the market. This means that we constantly adjust what we teach so that you gain the skills that employers are looking for now.
Career Prep And Portfolios That Show Off Your Skills
Our Student Success team begins preparing students for the job search in the second week of class. You'll start by learning about creating a professional online presence and developing soft skills, and then you'll get the chance to practice technical interviewing.
In the second half of the program, you'll go through career prep to finalize your resume, build your portfolio and start applying for jobs.
After graduation, you'll get the chance to meet potential employers at our career fair. During the career fair, you'll demo your final capstone project to scouts from our employer network.
Learn more about our Student Success team and how we help you get a new tech role in Can DigitalCrafts Help Me Get A Job?
You can also download our Outcomes Report for our latest job placement numbers.
Tips For The Job Search From Our Grads
Alum Nat Sharpe talks about his job search, as well as his experience in class, in this video:
Before enrolling at DigitalCrafts, Aspen Hollyer was a public school teacher teaching ESL to 8th and 9th graders. Today, she's a developer at a Houston agency that builds custom software for its clients. Here's her advice for finding a job.
Merilee Wheelock faced several challenges at once when she graduated from one of our bootcamps. She not only finished class with flying colors, but she also sold her home and then moved to Silicon Valley, where she knew no one. Here's how she got a job in a new industry, 2500 miles from home.
Stephanie Asmar was the first of six peers in her cohort to receive a job offer before graduation. Here's how she got the job.
Julie Dyer started our program with no professional software experience and still received a job offer before graduation. Here's her approach to the job search, as well as her advice for new software developers.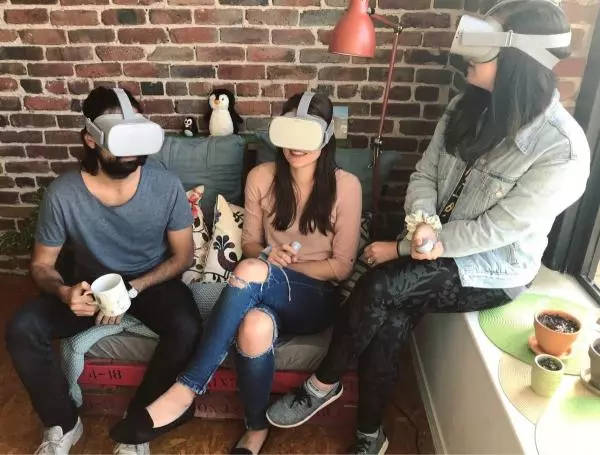 Alumna Merilee Wheelock tries out a VR headset in her first job after graduating from our bootcamp.
Launch Your Career In Tech
Ready to take the next step and launch your career in tech? Download our course catalog for more information about our programs.
Download Catalog