News & Views
Is a Coding Bootcamp Right for You?
5 Reasons to Consider a Coding Bootcamp
At DigitalCrafts, we encounter prospective students daily who are considering a new career path in tech but worry how an alternative education like an online coding bootcamp can support their efforts.
These prospective students come with many different questions. Part-time or full-time? Self-Paced? Are online coding bootcamps enough, or do I need a college degree? And of course, how will I afford this? But there is one question asked most often. "Is a coding career path right for me?"
While we can't answer the last question for you, we can share with you some of the common traits that we have observed with some of our successful bootcamp students.
You Love Learning New Things
With any new venture, it is understandable that you will be required to learn new information. However, in a bootcamp environment, students spend several hours at a time studying and practicing new skills in their chosen field. Often, these programs include hours spent outside of class working independently or in a group on homework and projects.
In our coding bootcamps, students are introduced to multiple programming languages including Javascript. We provide them with instruction related to front-end and back-end development. As they explore these skills, students are expected to practice their skills. Students who enjoy the challenge of studying new information and skills in a fast-paced environment are well-suited for a bootcamp curriculum.
You Enjoy a Changing Industry
The tech industry is a fast-moving field. New developments seem to pop up almost daily, and people who study in this industry must be ready to face those changes. Bootcamps are uniquely positioned to answer these changes by adapting their curriculum to stay in tune with industry-relevant subjects.
Our coding bootcamp instructors are professionals in their field. They provide timely and relevant instruction for students. Students can study industry changes under the guidance of their instructors. This allows students to observe the changing landscape of technology in real-time.
If you are constantly considering the next new gadget or fascinated with how technology can improve lives, a coding bootcamp could be the first step in exploring a career path in coding.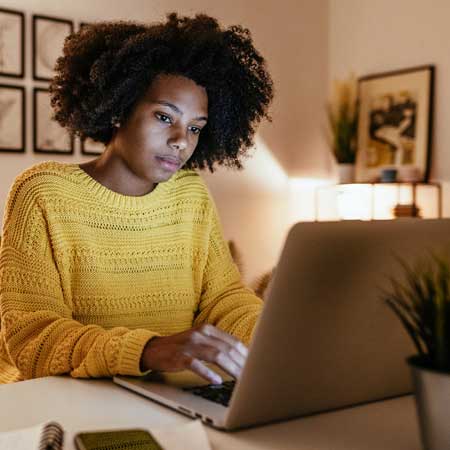 You Thrive on Collaboration
The unique nature of bootcamps provides students with intense instruction often with the same classmates through a cohort. Not all bootcamps are live instruction, but the ones that are can pair students to work on projects or problems designed to further their understanding of principles. Part of the bootcamp process is focusing on specific information and skills for your dedicated interest. The ability to practice with your peer group gives you the ability to learn from your peers and share your findings with them.
At DigitalCrafts, we pride ourselves on a collaborative environment both at our in-person and our online coding bootcamps. Even students who choose our online self-paced independent study path will be supported by their instructor. We believe that students learn best by doing. We design our curriculum around team projects and independent study. Students are offered opportunities to practice skills taught during class times. Our curriculum reflects real-world experiences that our students might encounter if they continue to pursue a coding career path.
If working with a team to solve problems excites you, you should consider how a coding bootcamp can introduce you to teamwork and technical skills for a new career path.
You Want to Be Part of a Growing Field
Coding is a growing field! The U.S. Bureau of Labor Statistics indicates employment of web developers and digital designers is projected to grow 23% from 2021 to 2031.* Web development is on a positive trend. With entry-level roles like web developer, web and digital interface designer, and web designer, people interested in the field have a range of potential opportunities to explore.** The average annual median wage of web developers was $77,030 in May 2021.*
DigitalCrafts software and web development bootcamps are designed to help students prepare to pursue different career paths in the coding space. With options for online full-time classes to part-time online and in-person classes, DigitalCrafts introduces students to a full-stack coding curriculum with an emphasis on front-end and back-end development. Students study programming languages and coding methods to determine where their interests lie for a future career path.
If you are excited about the growing need for people in the tech field, a coding or other tech bootcamp might be a good option.
You Desire Support in Making the Change to a New Field
There are many things to consider when changing career paths. For some people, their career change might be moving into a different position in the same industry while others might be contemplating a full career pivot. Everything from what new skills to highlight on your resume to what you should update on your LinkedIn profile can feel overwhelming to some.
At DigitalCrafts, the career services team supports its students along their new career paths. As students proceed through the program, they are introduced to possible career path options through electives and webinars designed to provide more context to a career path in tech. Additionally, students receive feedback and tips on everything from their resumes and portfolio to their LinkedIn profiles. DigitalCrafts does not guarantee employment to any student, but they can provide the steps and a roadmap for students pursuing a career path in tech.
If you desire support in finding your next career path, and you enjoy learning about new technologies, a DigitalCrafts bootcamp could be a great fit for your academic goals.
Coding Bootcamp at DigitalCrafts
If you are considering a tech bootcamp, you should research your options to find a place that suits your needs. At DigitalCrafts, community is valued in several ways. The instructors work hard to create a collaborative and engaging space for students to network and study. From the dedicated Slack channels for students and alumni to the opportunities to network at virtual career fairs, DigitalCrafts values an inclusive and diverse community for its students.
Additionally, DigitalCrafts realizes that the financial investment required for bootcamps can be prohibitive to some. That is why DC is proud to offer scholarships and grants to offset the costs associated with studying at their bootcamps. These scholarships and grants include options for individuals who have traditionally not been represented in the tech industry.
Whether you want to learn part-time online, full-time online, or attend classes in-person at our Atlanta campus, DigitalCrafts provides professional instruction paired with career services support to guide you on your new journey.
What's Next?
The next steps are up to you. You can dip your toe into DigitalCrafts with one of our free introductory classes, or you can apply now.
Uncertain which step to take? That's ok. The DigitalCrafts team is here to help support you and provide answers to your questions. Drop us a line at hello@digitalcrafts.com and schedule a call to learn more about our bootcamps and our community.
---