News & Views
Ryan Schniederjan: Web Development Instructor
Ryan first became interested in programming in the nineties. The web was just taking off and he was exploring chat rooms and everything else the early internet had to offer. He enjoyed it so much he thought he might make it a career, but he didn't enjoy the computer classes in undergrad, so he changed his focus to medicine instead. "Back in those days the internet was very different. I didn't want to sit in front of a computer and code all day. I wasn't excited about it, but it was always a lingering interest," Ryan explains.
During his 20 year career as a pathology assistant, technology, and software in particular, became more and more integrated into the work he was doing, but he didn't always feel that the products were made with the end user in mind. So, he decided to leave his career in medicine and become a software engineer. "What was coming to us was actually kind of useless," he asserts. "The software we were getting was not built for what we actually did and there was this disconnect between the engineers and the end users. I wanted to be the person making the software, so that's why I made the switch."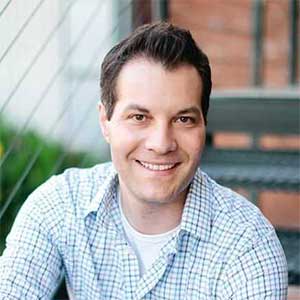 Now as a software engineer, Ryan's time in medicine influences him a lot. There were a lot of transferable skills that he was able to take from his career in medicine into software engineering. The lean six sigma methodologies often used in the medical field are similar to the SCRUM methodologies often used in software engineering. He also spent years as a clinical instructor, teaching up and coming pulmonologists. He brings those years of teaching experience into his position as an instructor at DigitalCrafts. "I try to produce students who know how to solve problems and are not afraid to jump up and solve that problem," Ryan declares.
He describes his teaching style as "no student left behind." His goal is to figure out how students learn best so he can deliver material in a way that resonates with them. "I find it very rare that there's a student who can't learn something," Ryan asserts. He's steadfast in his commitment to making sure that every student is able to understand the material. "If they're not understanding a topic, it's usually because they're not being taught in a way they understand." He believes his strength is being able to quickly pivot in class if he sees that students are struggling with the information and find an alternative method of explaining it.
One of the things he loves about teaching in a remote environment is that it makes students a little more open. Students can share their screen in the middle of class and get input from other students and everyone can learn from each other's mistakes. Ryan will often show his own code and highlight his own mistakes so that students can learn from them. "Showing my own mistakes in class helps loosen everybody up and it helps them realize that we're all human and going to make mistakes." He says that this group learning approach really lightens up the class and builds camaraderie.
Some of his favorite projects when he was a student at DigitalCrafts was a python role playing game. He and his team created a CLI game modeled after the famous video game, Mortal Kombat. "This project helped us apply the fundamentals of programming. It was very exciting because it was the first time that we'd ever really put anything together. We even found a way to make little images within the CLI interface and it was really exciting to show that to the class."
One of the things that web development has taught him that he wants to impart on his students is that you need to be uncomfortable being uncomfortable. While some of his students are more introverted than others, he emphasizes the importance of them speaking up and asking questions in class when needed. "When we share our code it's kind of exposing. It may sound weird, but code is kind of personal. When we create something, we tend to think of it kind of like our baby. When we share that baby and somebody starts picking it apart, we can take it personal, he notes. His goal is to help his students to see the benefits of constructive criticism, even when it may be uncomfortable at times.
Seeing his students successfully transition into software engineering careers is fulfilling for Ryan because he knows firsthand how much of a difference a new career can make in someone's life. Since switching careers, a lot has changed for Ryan. His career in software engineering has allowed him to have more work-life balance. Now he works from home and has time to develop his other passions like video production. "Before I was always going somewhere, I was in an office or a laboratory and now I have a lot more freedom. Being able to do more of the things that makes me happy is the biggest change."