News & Views
Instructor Profile: Tan Le-Dang, Web Development
For DigitalCrafts instructor Tan Le-Dang, becoming a software engineer was a progressive journey. He completed a chemistry degree, before deciding on another path entirely. It was during his time working on the Geek Squad at Best Buy where he realized he had a knack for technology and developed an interest in working in the tech industry.
He went on to work on the tech support team at a large tech company and after gaining a lot of exposure to the fundamentals of software engineering, he knew he wanted to be the one creating the software not troubleshooting it. "As someone who didn't have a clue what I wanted to do until I was in my mid-twenties, web development gave me great purpose, and I am hoping that it can give my students great purpose too," says Tan.
After making the decision to pivot into software engineering, Tan became a student at DigitalCrafts and earned his certificate. He believes his nontraditional path into software engineering helps him to relate closely to his students because they're often on similar journeys. "When they're struggling and some of these really hard new concepts are just taking a while to stick, I am able to directly put myself into their shoes because I've been there," he comments. "It also allows me to really tailor my teaching style in a way that I think is most conducive to what they need."
As an instructor, Tan believes in letting his students get their hands dirty. "I try to lecture pretty minimally, and I want students to go in there and try it," he notes. "I want them to understand that it might not click immediately, or it might not work the first time, but you just have to try it." As a former bootcamp student, he can relate to feeling stuck on a particularly difficult concept. For him it was weaving databases into his full stack project. He overcame his challenges by giving himself a lot of grace, which is what he recommends to his students. "At that moment I was incredibly frustrated and it's really easy to want to drop it and just walk away when you're frustrated," he says. "But acknowledging that this topic is just really difficult and advanced and resetting my mental state helped." Once he adjusted his mindset, he was able to continue practicing and supplemented his learning outside of that classroom.
When it comes to managing mindset, one thing Tan recommends is that his students become comfortable celebrating small victories. "Sometimes when you're focused on a big project, it's easy to lose sight of the steps in front of you and just being able to take some satisfaction in small victories as opposed to only seeing the big picture will get you far," he suggests. He believes that sometimes students get so focused on the big picture that they forget how far they've come, and it can lead to burnout.
As a web developer, Tan's favorite part about web development is how it can be used to solve problems. When he was a student, one of the projects he made was an app to keep track of when his dog went out for walks because he and his partner would often lose track. He loves that he can use code to solve practical, real-world problems. "Web development doesn't have to be the superfluous thing. At the end of the day, even if you're working for someone else, it doesn't mean you can't use what you are learning here to solve your own problems," he states.
Another part of web development that he really enjoys is having the opportunity to make a big impact on a project. "After only being there for a couple months, I was able to go through the application and be like, 'Oh, I built this.' That's a very cool feeling." He also notes, working as a developer in his day to day role, helps him to be a better instructor. "What I do for a living and what I teach in the cohort isn't all that different. It's more or less the same thing. It's just like the scale of complexity that is different," Tan observes.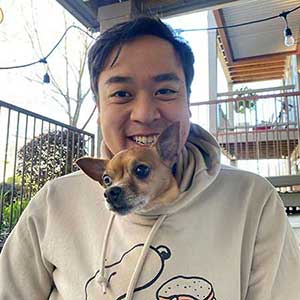 For students starting their job search, Tan stresses the importance of networking both inside and outside of their respective cohort. He landed one of his first development jobs by getting a referral from one of his DigitalCrafts' classmates.
"Make sure you find a way to keep in touch, phone numbers, social media, whatever it takes," he advises. He recommends that students use the DigitalCrafts' Slack channel to keep in touch after their bootcamp ends. It's not uncommon for students to continue to work collaboratively on projects after their formal learning is over, which helps to extend the bonds they built in the classroom.
"By continuing to support your peers inside and outside of your cohort, you increase your chances of finding success. And likewise, this provides an opportunity for you to help your classmates in need," recommends Tan. "It's a two way street and is at the heart of our values at DigitalCrafts."