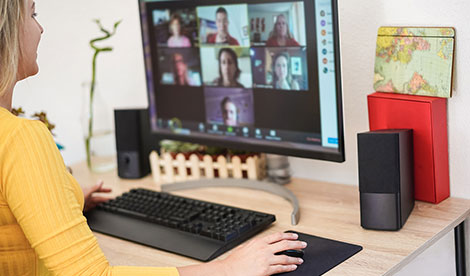 Live, Online and Flexible Bootcamps
Attend a DigitalCrafts bootcamp from virtually anywhere. Online classes are live-streamed and are available to students wanting to take a course remotely. Flex study options offer the opportunity to work independently on your own schedule with one-on-one instructor support and guidance.
View Bootcamps
Request Info
Why take an Online Bootcamp?
Like anything, you get out what you put in. What we offer includes opportunities to :
Study and stream classes from anywhere
Study with industry professionals
Jumpstart a potential new career path in tech
Learn and apply current best practices and skills
Receive feedback on your progress and support from your instructor
Supplement your education with elective workshops and webinars
Get career support from our career services team
Why attend a bootcamp?
Work to gain skills in weeks not years
Practice and apply skills in a project-based learning environment
Study current industry-relevant topics
Receive feedback and support from industry professionals
Benefit from career support services designed to support your job search
Need a place to Study?
Secure a Co-Working Space with WeWork
Attending an online class but don't have an ideal setup for learning at home? Students can optionally stream their online class from a local WeWork with an All Access Membership included at no additional cost.
Included with your tuition for online bootcamps only (approximately a $1200 value)
Co-Working space at over 500 locations nationwide
Includes access to common areas, hot desks, phone booths, and pantry
24/7 access (subject to availability and standard business hours)
Online Experience FAQs
Flex instruction provides you with one-on-one access to your instructor with feedback and mentoring as you access your learning materials independently on your schedule. You will study on your own time and create your own schedule for assignment completion adhering to instructor deadlines. Regular check-ins with your instructor will ensure you are supported and on the right path.
To be successful in our online courses, you will need a strong internet connection and a Mac or Windows computer We strongly recommend a recent (~4 years or newer) computer with:
At least 8GB of RAM minimum, 16GB recommended.
At least 30GB of free storage space.
Reliable broadband internet for streaming class.
Reliable broadband internet for streaming class.
Chromebooks and iPads are not sufficient for any of our programs.
Students receive career support with their program which includes portfolio guidance, mock interviews, and virtual career fairs. In addition, our dedicated Student Services Team is available to provide detailed feedback on everything from cover letters and resumes, to projects, portfolios, and emails to potential employers.
Review your syllabus carefully.
Make note on a calendar of any deadlines.
Schedule reminders to complete large assignments.
Follow a schedule for learning - plan days and times to work on your class.
Treat your study time as a non-breakable appointment with yourself.
Find a quiet place to work or access your complimentary WeWork membership.
Contact your instructor if you are confused or need help.1
Stay in touch with the student success team about the next steps.
DigitalCrafts offers students several options to pay their bootcamp tuition. For more information on those options, visit our tuition and financing page.